1. NetApp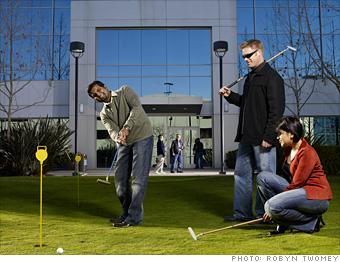 Rank: 1 (Previous rank: 14)
What makes it so great?
Employee enthusiasm for the legendary egalitarian culture helped catapult NetApp to No. 1 after six years on our list.
Typical of its down-to-earth management ethos, NetApp early on ditched a travel policy a dozen pages long in favor of this maxim: "We are a frugal company. But don't show up dog-tired to save a few bucks. Use your common sense." Rather than business plans, many units write "future histories," imagining where their business will be a year or two out.
And the benefits are tops: five paid days for volunteer work, $11,390 adoption aid, and autism coverage — used by 43 employees since 2006 at a cost of $242,452. The company has gained market share during the slump, hasn't had layoffs, and has more than $2 billion in cash on hand to help it ride out the global financial crisis.
Headquarters: 495 East Java Drive
Sunnyvale, CA 94089
2007 revenue ($ millions): 3,303
Website: www.netapp.com
2. Edward Jones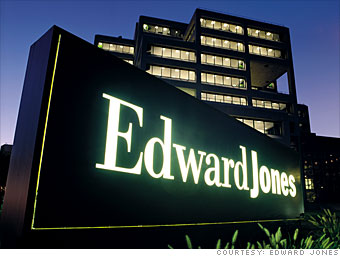 Rank: 2 (Previous rank: 4)
What makes it so great?
The stock market collapse reduced partner distributions and bonuses, but Jim Weddle, who heads the brokerage, assured associates the firm had no exposure to high-risk mortgages or financial derivatives and no plans for layoffs. Jones hired 698 new financial advisors in the first ten months of 2008 and is building an addition to its St. Louis headquarters for 500 new employees.
Headquarters: 12555 Manchester Road
St. Louis, MO 63131
2007 revenue ($ millions): 4,147
Website: www.edwardjones.com
3. Boston Consulting Group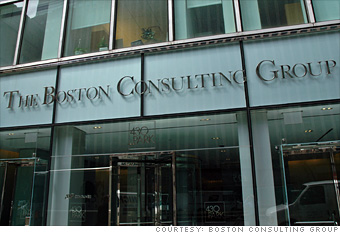 Rank: 3 (Previous rank: 11)
What makes it so great?
Management consultant has increased recruitment of minorities (25% of staff, up from 19% in 2004). Offers first-class health insurance: $5 co-pay for doctor visits, 100% fertility treatment coverage.
Headquarters: 53 State Street
Boston, MA 2109
2007 revenue ($ millions): 2,300
Website: www.bcg.com
4. Google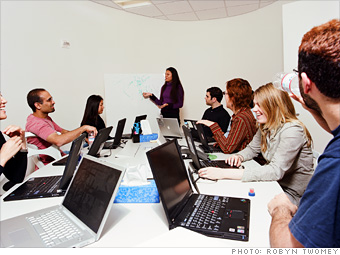 Rank: 4 (Previous rank: 1)
What makes it so great?
Tech powerhouse marked tenth birthday in 2008. While the company still attracts 777,000 applicants a year, hiring has slowed, and Google recently cut frills like afternoon tea and an annual ski trip.
Headquarters: 1600 Ampitheatre Parkway
Mountain View, CA 94043
2007 revenue ($ millions): 16,594
Website: www.google.com
5. Wegmans Food Markets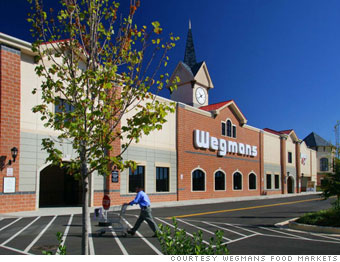 What makes it so great?
Recent offerings at this family-owned supermarket chain: Employees could buy gift cards of up to $250 at a 10% discount to help with food costs; Wegmans is also rolling out free yoga classes at each of its stores.
Headquarters: 1500 Brooks Avenue
Rochester, NY 14603
2007 revenue ($ millions): 4,511
Website: www.wegmans.com
6. Cisco Systems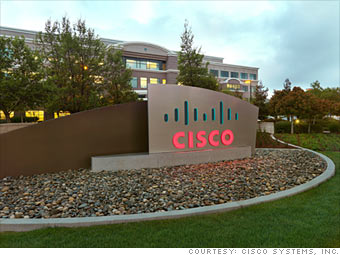 Rank: 6 (Previous rank: 6)
What makes it so great?
CEO John Chambers is focusing on collaborative efforts to give employees more say in decision-making. With over $26 billion in cash and investments, Cisco is poised to ride out the business slowdown and has about 500 job openings, mostly across engineering disciplines and in "customer advocacy."
Headquarters: 170 West Tasman Drive
San Jose, CA 95134
2007 revenue ($ millions): 34,900
Website: www.cisco.com
7. Genentech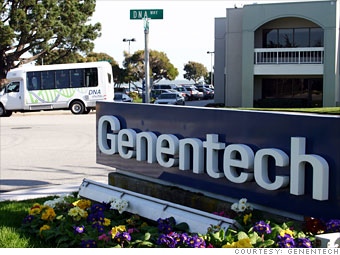 Rank: 7 (Previous rank: 5)
What makes it so great?
The biotech leader continued to resist a takeover by shareholder Roche; it also implemented retention bonuses and severance ranging from 18 to 52 weeks' pay for anyone terminated after a merger.
Headquarters: 1 DNA Way
South San Francisco, CA 94080
2007 revenue ($ millions): 11,724
Website: www.gene.com
8. Methodist Hospital System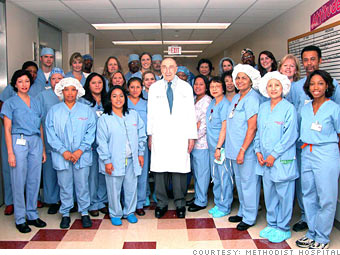 Rank: 8 (Previous rank: 10)
What makes it so great?
Methodist broke ground on $2 billion in construction in 2008, filled 300 new jobs, and awarded merit pay raises of 3%. Salaried employees who worked long hours after Hurricane Ike got $250 Kroger gift cards.
Headquarters: 6565 Fannin St
Houston, TX 77030
2007 revenue ($ millions): 1,742
Website: www.methodisthealth.com
9. Goldman Sachs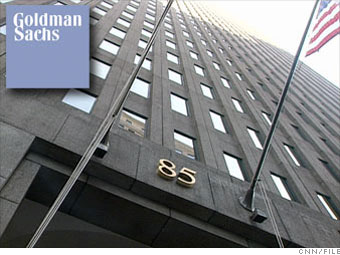 Rank: 9 (Previous rank: 9)
What makes it so great?
Wall Street survivor turned itself into a bank holding company in September and laid off some 3,000 people across the globe by year-end. Top seven officers agreed to forgo bonuses, but rest of staff was in line to receive performance bonuses, albeit at a lower rate.
Headquarters: 85 Broad Street
New York, NY 10004
2007 revenue ($ millions): 45,987
Website: www.gs.com
10. Nugget Market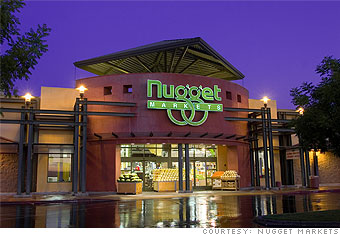 Rank: 10 (Previous rank: 12)
What makes it so great?
Sales have yet to slump at this crazy-fun supermarket chain, which in 81 years has never had a layoff.
Headquarters: 168 Court St.
Woodland, CA 95695
2007 revenue ($ millions): 273
Website: www.nuggetmarket.com
Sumber : fortune magazine
READ MORE - 10 Best Companies To Work For